"People who help the land and the culture, who give unselfishly for the sake of the land, they are the heroes, the real warriors."
~Ed Lindsey, Project Director
FEATURING:
A Documentary by: Kat Tracy

Short video documentary following the work of Maui Cultural Lands and important Hawaiian issues, loss of cultural sites and native plants.
More info>>

Education. Archaeological Stabilization. Reforestation.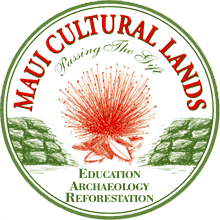 Beyond the pineapple and sugarcane fields, deep in the Valley Isle, there is a past unknown to us, yet so familiar. In Honokowai Valley, where an estimated 600 Hawaiian families once thrived, ancient rock walls surrounding house sites and taro patches still stand proud. Some native and endemic plants are thriving. The rich Hawaiian history that permeates daily life on Maui has its roots here in this Valley.

Our vision is to restore Honokowai Valley to a state of balance, so that it can serve as a place to learn, to find peace and to honor those who have come before us. In the face of urban sprawl and population growth on Maui, now more then ever, we must concentrate on these efforts.